09 December 2021
The CSBP Coastal Connection Challenge (CCCC) is empowering young people to take action to preserve their coastal environment.
50 students from schools and youth groups in Kwinana and Rockingham attended a two-day forum in March to identify opportunities in caring for local coastal areas. Participants have spent the past two months developing their ideas into tangible action projects.
The team from Kwinana Zone Youth Centre is organising regular community beach-clean ups and fundraising to install a CoastSnap photo point near Wells Park. CoastSnap is a citizen science research project that uses photos taken by the public to measure how beaches erode and recover. People are encouraged to take a picture of a particular area of coastline and share it with the CoastSnap community database so that researchers can build a record of the location and changes over time.
The team from Organically Grown Home-Schooling met with different stakeholders, including Guardians of the Estuary and Western Australian Seabird Rescue, to research the effect of fishing lines on oceans and coast. The group is now looking into how the promote the use of fishing line bins and make them more effective — for example, implementing a QR code system so people can alert the relevant authorities when the bins are full or damaged.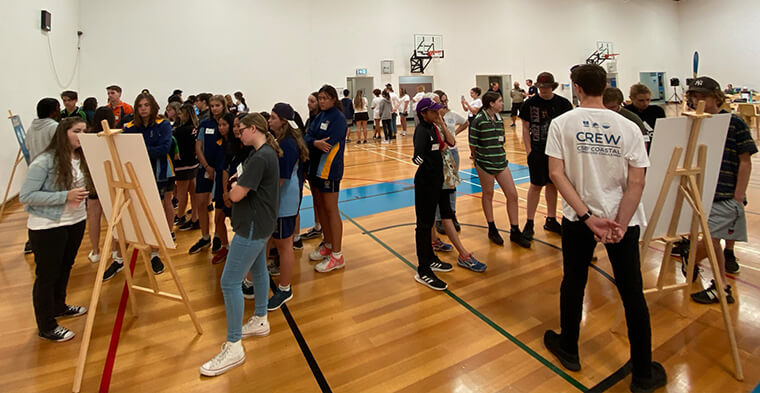 Tranby College is aiming to become a sustainable school as a result of participating in the Challenge. This includes constructing two recycling stations for five types of recycling – waste paper and cardboard, plastic, metal, electronic devices, and glass. A school-wide competition will encourage students to design artwork for the recycling bins, making them a feature in the school and bringing awareness to the project.
Other teams are working on a short documentary, hosting an art exhibition of pieces made out of rubbish collected from the shoreline and running a market day for sustainable producers and products.
Participants will present their action plans at a special showcase next Wednesday to stakeholders from CSBP, Perth NRM (Natural Resource Management) and the Cities of Kwinana and Rockingham.