WesCEF is guided by Wesfarmers vision for reconciliation; an Australia that affords equal opportunities to all. We aim to ensure that Aboriginal people feel welcome in our businesses as employees, customers, suppliers, and visitors. We will know that we have succeeded when we have​ a workplace that reflects the diversity of the communities we serve.
Steering our actions is our comprehensive Aboriginal Engagement and Employment Strategy, which seeks to:
Create employment opportunities for Aboriginal people
Outline key plans and guidelines to encourage stronger retention of Aboriginal employees where people choose to stay in the business and develop their careers over a long period of time
Contribute to a safe, positive and inclusive workplace for Aboriginal employees
Add to a culturally diverse workforce.
There are three pillars that form the foundation of our Strategy. They are: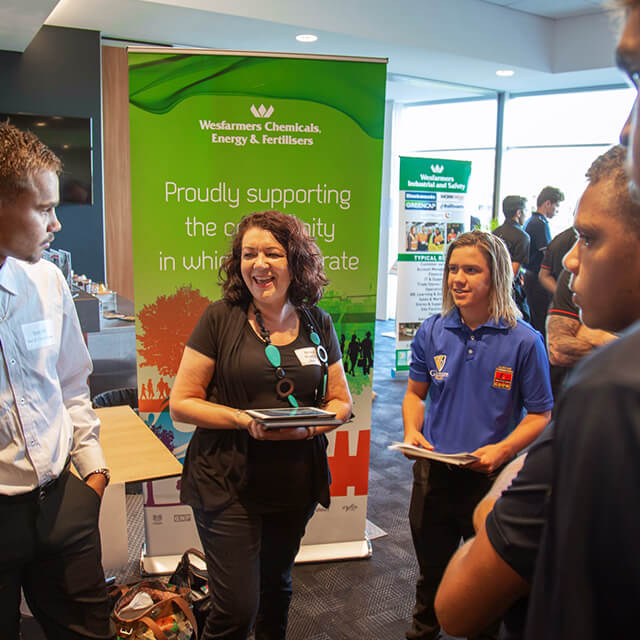 PILLAR 1
Building Relationships
We are committed to establishing and maintaining meaningful relationships with our Aboriginal employees, customers and contractors, as well as the people living in the communities in which our businesses operate. We have long lasting community partnerships  with The Clontarf Foundation and Moordjit Koort, where our support enables a wide range of local activities and initiatives that support Aboriginal people.
READ MORE ABOUT OUR PARTNERSHIPS BELOW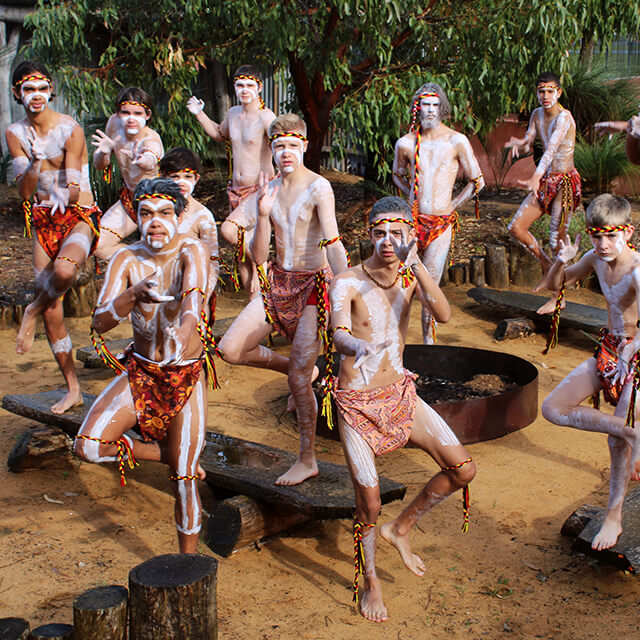 PILLAR 2
Building Respect
We are committed to developing awareness of Aboriginal culture and to building an organisational culture that is welcoming and inclusive of Aboriginal people.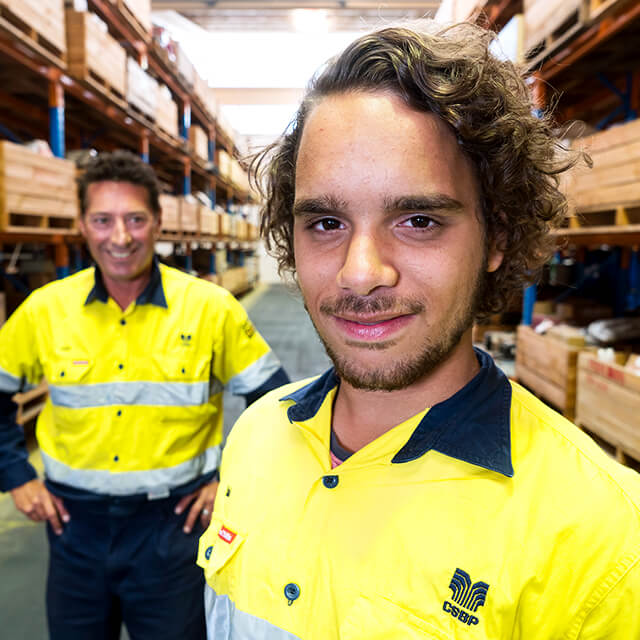 PILLAR 3
Creating Opportunities
We are committed to creating an environment where sustainable employment for Aboriginal people is a reality. This is not only about creating jobs, but also about getting people work ready.
A wide variety of opportunities are available at our Murdoch or Kwinana locations, and we welcome Aboriginal and Torres Strait Islander people to submit an Expression Of Interest.
Aboriginal Community Partnerships
Clontarf Foundation

The Clontarf Foundation exists to improve the education, discipline, life skills, self-esteem and employment prospects of young Aboriginal and Torres Strait Islander men and by doing so equips them to participate more meaningfully in society. Wesfarmers was the Clontarf Foundation's first corporate partner and has provided financial and employment support since 2001.

WesCEF formed its own partnership with Clontarf at Kwinana's Gilmore College in 2014. Since then, WesCEF has provided various employment opportunities  to Clontarf students, and currently, WesCEF has a number of Clontarf graduates working in various roles across the Division.

WesCEF employees also support Clontarf students by helping them with worksite visits, mock interviews, employment Forums, school-based traineeship/work placements.

Moorditj Koort Aboriginal Health and Wellness Centre

Moorditj Koort is Noongar for 'solid heart' and a fitting name for the not-for-profit group dedicated to improving the health and wellbeing of Aboriginal people in our local community. Moorditj Koort Aboriginal Health and Wellness Centre works to support health and wellness of Aboriginal/Torres Strait Islander people living in the Kwinana and Rockingham area by connecting community members with a range of local health services, government agencies and the community.

WesCEF and Moorditj Koort have been community partners since 2014. Our support enables the development of specific Kwinana Aboriginal community events that bring community members together and strengthens community connections.  In addition, we have a secondment program enabling WesCEF and Moorditj Koort employees to swap workplaces and build upon their skills and experience as well as develop greater cultural awareness.

Through this relationship, WesCEF leaders have been able to grow and strengthen its connection to Kwinana Aboriginal elders and community members through biannual Aboriginal Engagement & Advisory Group meetings.

Wirrpanda Foundation, Deadly Sista Girlz

Deadly Sista Girlz (DSG) is a culturally appropriate healthy lifestyle program which aims to improve engagement and education amongst school-aged Aboriginal and Torres Strait Islander girls.

The program focuses on building self-esteem and confidence, pride in Aboriginal and Torres Strait Islander identity, having practical cultural contribution in the community, positive social interactions, building relationships based on mutual respect, encouraging active self-development and yarning about sexual and women's health, drug and alcohol abuse, road safety, healthy nutrition, financial literacy and healthy relationships.

WesCEF is building connections with Kwinana's DSG Gilmore Academy to extend pipeline opportunities such as work experience, school based traineeships and employment pathways at its businesses.

Murdoch University  - Kulbardi Aboriginal Centre

The aim of the Kulbardi Centre is to increase Aboriginal and Torres Strait Islander participation in higher education and provide support for students throughout their studies.

Co-located on the grounds of Murdoch University, WesCEF  engages with the Kulbardi Aboriginal Centre through student immersions experiences, scholarships, student work placements, networking and event partnerships.

SMYL Community Services

WesCEF and SMYL Community Services joined forces in 2014 with the aim of supporting Aboriginal youth in the Kwinana/Rockingham area to build future capability and workplace experience through school-based traineeships. Since then several senior high school students have participated in school-based traineeships at WesCEF, CSBP and Kleenheat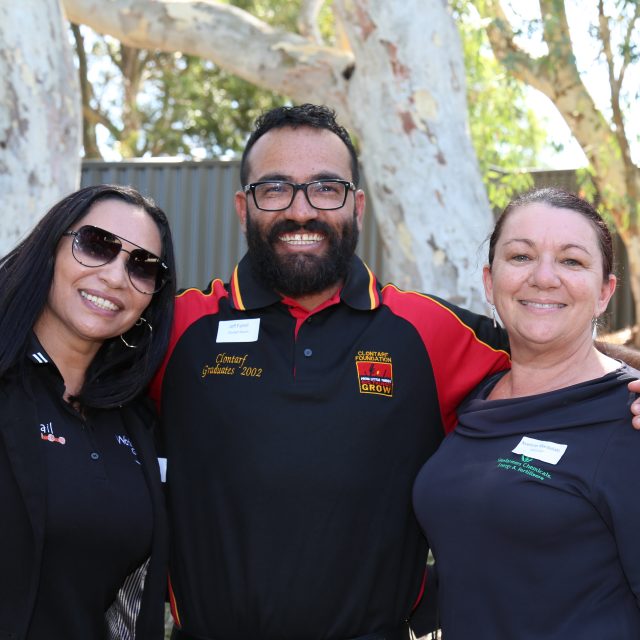 Engaging the Kwinana Community
WesCEF has an opportunity with its businesses to make a real and lasting impact on Aboriginal employment within the Kwinana community. 
Our workforce in Kwinana is substantial and the Aboriginal population in this area is twice the national average. Consequently, we will always strive for meaningful involvement in the local communities in which we operate.