09 December 2021
Meet Prathyusha 'Praty' Sangam – WesCEF's very own autonomous racing superstar!
Praty took first place in the AWS DeepRacer League, which is the world's first global autonomous racing league and brings together developers of all skill levels to put their machine learning skills to the test.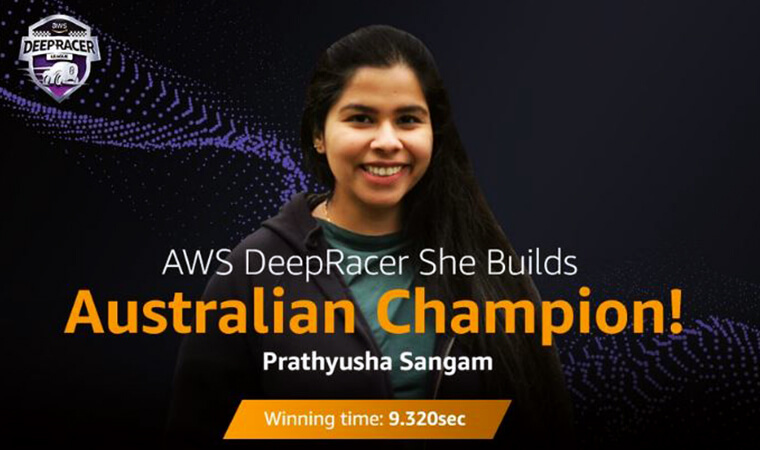 After winning at the Australian level, Praty progressed to the international Championships becoming the first female to represent Australia and New Zealand on the global stage.
Praty who is a Kleenheat Graduate Data Scientist by day said, "Watching my model perform so well in the Australian finals was very exciting as well as rewarding".
"As a tech-enthusiast, I have always been in touch with a lot of the technologies and algorithms out there. However, as a data scientist, I have never worked with Reinforcement
Learning before, so this race was an excellent opportunity".
In simple terms, Reinforcement Learning is part of Machine Learning which is the use and development of computer systems that are able to learn and adapt without following explicit instructions.
A champion for tech and diversity
Since 2018, Praty has been part of the Kleenheat Team in a graduate position, after completing her studies at The University of Western Australia.
Praty is responsible for advising the business on the potential of data, creating solutions that enable enhanced business performance and providing insights to support data-driven decision-making, through the use of advanced statistical analysis, data mining and data visualization techniques.
After a colleague suggested she enter the race, Praty said she quickly became keen to participate in the competition to learn something new and have fun. In fact, not only is Praty a new master-builder of self-driving cars, but she is also very passionate about encouraging women and technology.
The SheBuilds division of the DeepRacer League aims to educate and celebrate people who identify as female, people with disabilities, LGBTQ+, and anyone who identifies as part of a marginalised community.
"It's this ethos around diversity that caught my eye more than the Reinforcement Learning itself."
This drive to innovate and passion to share knowledge is what got Praty nominated for the recent WesCEF Innovation and Values Awards, where she took home the win for Kleenheat for Excellence in Innovative Behaviour.
So how does it feel to win gold in the competition? Praty said she felt very proud when she won and hopes it inspires other women in the industry to pursue more of these types of opportunities.
"This is a male-dominated industry and as a volunteer in STEM-based organisations, I believe we need more female role models by encouraging more women to get involved.
Praty is heavily involved in supporting women in technology and spends her spare time volunteering at several organisations such as Female Coders Collective, SheCodes and RoboGals teaching women and young girls programming languages.
"I want to encourage women and girls to take every opportunity you can.

"When I first got into the competition, I had no expectations and went in for some fun and the experience.

"However, I won and learned I would be the only female representative for Australia and New Zealand competing in the global championships – which makes the win even more special.

Praty took home gold in the DeepRacer League, scoring herself an entry into the AWS
DeepRacer League Championship Cup, which took place earlier this month.