24 May 2022
Being able to bring her whole self to work is one of the many reasons Delight Mwenje loves her job at CSBP's Sodium Cyanide plant.
A qualified aeronautical engineering with a master's degree in mechanical engineering, Delight was invited to join WesCEF's Vacation Engineering program in November and her intelligence, enthusiasm and attention to detail ensured she advanced through to the Graduate Mechanical Engineering Program.
"When I joined the team, I really felt at home. WesCEF pushes you to bring your whole self to work through their cultural initiatives, and while other companies proport to do this, WesCEF actually makes me feel comfortable enough to bring my whole self," Delight said.
"When I arrived in Australia to study in 2016, I was lucky enough to find a good network of support amongst other international students and now I feel I have that same supportive network at Sodium Cyanide."
Finding a job and starting a career after graduating university was an intimidating experience for Delight, but she said WesCEF's Vacation and Graduate Program gave her the confidence and skills she needed to succeed both personally and professionally.
"In the Vacation program, the learning and development team gave me a range of soft skills such as presenting, communicating and relating to co-workers, which was great and very wholistic.
"I personally found the Lunch and Learns particularly inspiring, especially the presentations given by Li Unewisse and Julie Watson, who spoke about being pioneer women in their field and how they have navigated their careers.
"I initially applied for the Vacation Program because I was interested in the mixture of both on site and practical experience, and now I am really enjoying my first rotation in the Graduate Program with Sodium Cyanide."
"Day by day I'm gaining more and more confidence," Delight said.
"When I look back at myself in the Vacation Program and compare that person to me now, the amount of development and knowledge I have gained is incredible."
"In a year's time from now, I know I am going to be a much more confident engineer who will be very ready to give back to the business and return the investment they have made in me."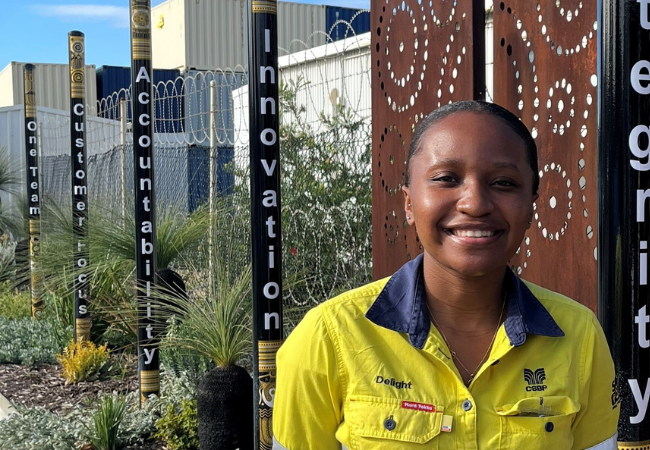 CSBP Mechanical Engineer Delight Mwenje