07 July 2023
As he heads towards retirement at the end of the year, Eli reflects on his time with CSBP.
For CSBP's Mechanical Field Supervisor, Eli Knudsen, every day can bring a highlight or a laugh and after 30 years with the company, he's certainly had a fair few of both. As he heads towards retirement at the end of this year, Eli recently took time to reflect on his years with CSBP.
"It's been pretty cool to see how the company has grown over that time, with areas that used to be just empty paddocks now housing fully operational plants on them that provide enormous value to the business," Eli said.
After living in the Kwinana area from the age of seven, when his family moved here from his native country of Denmark, Eli took up his first job with CSBP at the age of 16 as an Apprentice Fitter and Turner.
"I started out in the main workshop, which was where all the equipment for the site came in for repair and maintenance," Eli said.
"The workshop is still onsite today, but it's now used as the main CSBP store. When I started, there were approximately one hundred people working in there, from boilermakers to mechanics, carpenters, fitters, and painters and there was even a motor rewind section. Only a very small section of it was used as the main store and there was no AN, Ammonia, or Sodium Cyanide chemicals businesses back then; it was all fertiliser that was railed out, with very few trucks coming to site."
A work environment allowing for family, travels and career progression
After finishing his four-year apprenticeship, Eli worked as a Mechanical Fitter in the fertiliser plants, and just before leaving to go work on the mines, CSBP commissioned the short-lived hydrochloric acid plant.
Eli left CSBP for the Goldfields, which is where he met his partner Lesley, who many would now know as part of the CSBP Fertiliser team.
"After our time in the Goldfields, Lesley and I travelled to Europe. It's something I never had the opportunity to do when I was younger and I had wanted to experience my homeland and as much of Europe as possible," Eli said.
"We travelled around Europe and the east coast of Australia for 9 months and when we returned, I took up another job with CSBP – back in the workshop where I had first started!"
"It was at the time that industry was outsourcing its non-core business services and the rotables equipment, normally destined for the workshop, were seen as an option for outsourcing and gradually farmed out to local engineering workshops. My role was to facilitate their movement and manage the repairs for the business, which I did for about 10 years."
The travel bug soon hit again and Eli, Lesley, and their two young children – Holly and Aston – hit the road for six months to travel around Australia.
"I was very lucky to have a great boss who allowed me the opportunity to tick this adventure off the list and I'm so glad we did it, as we made a great many family memories," Eli said.
"Upon return, I took on a reliability role, interrogating our relatively young JDE system to look for unreliable equipment and ways we could improve it."
Moving into project teams for new CSBP plant construction to site restoration
After ten years in this and other Reliability Support roles, Eli was keen to get involved with some of the new plant projects that were happening at the time.
"I was given an opportunity with the AN3 project team, working with the PMC in the Quality Department. Our role was to assist contractors comply with CSBP procedures and engineering standards to ensure the construction of a safe and reliable plant.
"It was rewarding to be part of a major project and one that saw the team manage safety throughout construction with no major losses, while also delivering the project on time and within budget.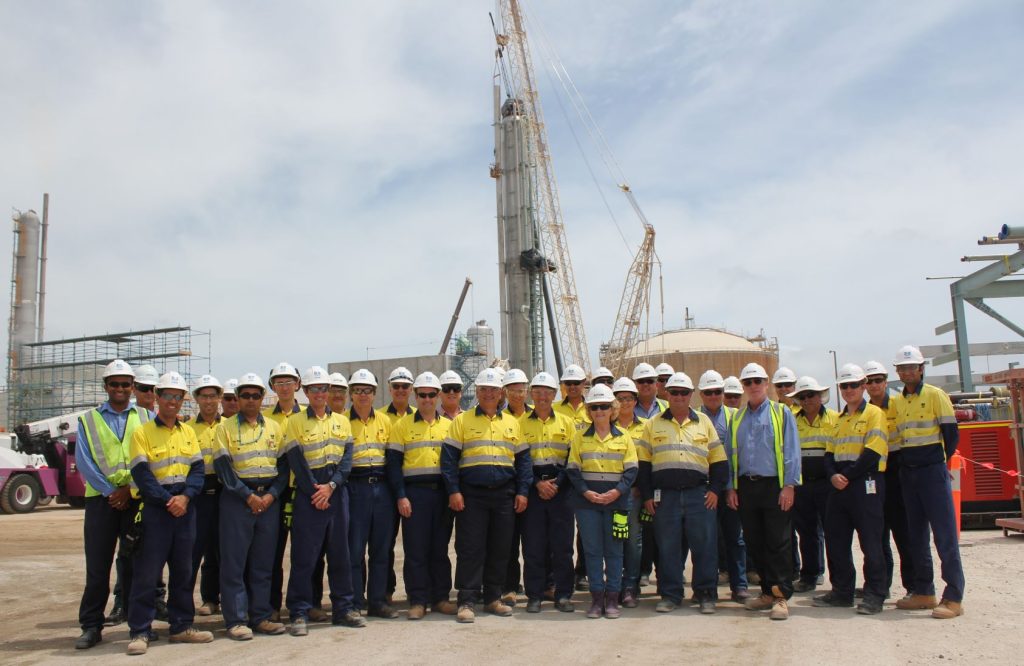 "Soon after that project finished, I took up an opportunity in field engineering, where my recent experiences in both maintenance and projects could be utilised. For those who know my more recent journey, I've been involved in restoring the existing roads on site, as well as picking up grounds maintenance in the last year."
It's no small task when you consider that the site is 137 hectares in total and includes around 20 kilometres of roads. One project that Eli's most proud of is his involvement in the construction of the new AN truck parking area.
"We were able to use legacy stockpiles from the North Paddock as backfill to elevate the area, in preparation for pavement construction. This created a direct saving of around $60,000, not to mention the potential saving to the company of upwards of $300,000 if those stockpiles weren't utlised and had to be disposed of to landfill," he said.
"The new truck parking area was originally a grass tree forest that could easily have been lost or destroyed. However, the CSBP Environment team decided to dig up and save as many trees as possible. There were about 100 removed in total and we've managed to keep and replant them, with the assistance of a local Indigenous company who assisted with design and construction, which has been a very rewarding experience for me personally.
"I've tried to reuse all materials from the roadworks around the site and you'll notice, particularly, the old railway sleepers in the gardens that were repurposed from our historical rail network and form an important part of our history.
Eli's overall sentiment for 30 years with CSBP
Reflecting on his own history, Eli notes that it's the people he's had the pleasure and privilege to work with over the last 30 years that have kept him at CSBP for all this time.
"My workmates are as important to me as my outside mates. I have met many good people, had great support, and built good relationships over my time here. I'll definitely miss saying g'day to my buddies every day once I retire."