22 September 2023
During the September UWA study break, students were given the opportunity to use Generative AI to help solve six different business problems from Wesfarmers, Wesfarmers Chemicals, Energy & Fertilisers (WesCEF), in particular, CSBP Fertilisers and Kleenheat and Covalent. 
WesCEF partnered with Microsoft to bring Generative AI to the hackathon which provided students with access to the Azure Open AI service and Github Copilot which is a software coding assistance tool.
The event was co-hosted with students from UWA's Venture innovation centre and Coders for Causes – a student club for coders on campus.
On the final night, judges from Wesfarmers, WesCEF and Microsoft were in attendance to present prizes. Judges included; Kim Collins, CSBP Fertilisers Commercial & Digital Manager, Rick Newnham, Kleenheat Commercial Manager, Amanda Lucas, Wesfarmers Digital Manager, Dylan Nash, Covalent Technology Manager and Adrian Lonne, Microsoft Client Director.
Sixty students in 11 groups participated in the hackathon over five days to 'solve' their problem and pitch back their solution. Groups were coached through their problems by WesCEF's IT&S team. 
Out of the groups, there were three stand-out viable solutions.
CSBP Fertilisers – Ship Guru
Manraj Chatha, Procurement and Shipping Officer and Peter Rowe, Sales Strategy & Reliability Analyst provided a problem involving shipping movement analysis and tracking system.
Ship Guru was awarded first place – this digital tracking system incorporated real-time maritime data and featured a filtering system for the type of cargo being carried.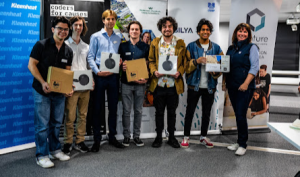 Covalent – Still No Longer
Dylan Nash Covalent Lithiums' Manager of Technology, requested assistance with tracking on-site construction progress through better quality photography which will help create a time-lapse video.
Still No Longer won second place creating a video image analysis and generation software to provide a months' worth of 'best quality images' as a test data set for a time-lapse.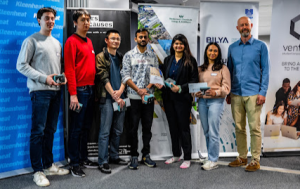 Kleenheat – Ask Khloe Chatbot
Rick Newnham Commercial Manager and Nicole Harris Customer Service Operations Manager presented the question of how to respond to customer queries using current data and information available to help manage high call centre calls and email queries.
Khloe the Chatbot demonstrated the use of Generative AI in formatting and summarising Customer Support Documents.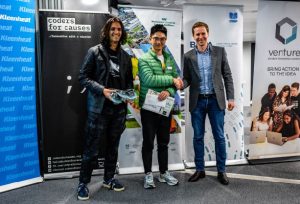 Additional solutions were presented in response to IT&S Service Desk and Test Data Generation problems, which received consolation prizes.
WesCEF IT&S Chief Information Officer, David Anthony said the students showed an amazing work ethic despite it being study break and were very competitive with many working through the week to meet the assessment rubric and develop working solutions. 
"The Hackathon sped up the process of trialling concepts by removing the guardrails on our processes, which in turn accelerates innovation. It was also a great way to get to know potential talent, many of whom have formed connections with our team."
Josh Qwek, Cyber Architecture and Program Lead, MC'd the final evening and was impressed by the ideas and solutions presented.
"In the end, it wasn't just about solving problems; it was about learning, growing, and innovating together. And that's what made this Hackathon a resounding success!"