30 June 2023
After 20 years, Colin's most enjoyable part of his journey has been the people he's worked with.
The early days
In 2003, Colin joined Kleenheat as a ramp hand at the Kwinana Depot. In anticipation of hearing back from an opportunity with the Defence Force on Garden Island, he agreed on a three-month role initially. However, during this time he was offered the position of Team Leader at the Kleenheat Depot and 20 years later he's still on board.
Colin was already a certified trainer and had certification in cylinder testing and maintenance – both of which proved vital in his role and career progress with Kleenheat.
In the early days his role predominantly involved filling and loading LPG and Kwik-Gas cylinders. Despite Kwik-Gas cylinders being in low demand at the time, his night shifts were busy with LPG orders, sometimes leading to a 2am finish, as opposed to the 11.30pm shift finish, particularly in winter. 
Colin's role merged into providing training and guidance on cylinder handling, testing, filling and maintenance. In 2005 Colin began managing the team at the newly built Kwik-Gas storage and refill shed on Beach Street and in 2009 accepted his new role as Terminal Coordinating Supervisor, which involved managing internal and external audits of the testing facilities, staff certification, compliance, integrating new technology and writing, and overseeing procedures.
From ramp hand to supervisor to manager
In 2011 he was offered the role of Regional Depot Manager, the position included the overall management of the Kwinana MHF depot and assisting with operations, training and compliance of all the regional depots in WA.
"I am pleased to say that many of the original staff are still employed with Kleenheat making their own footprints with production, maintenance, operations, and logistics."
In 2015 when Kleenheat sold the east coast part of the business, training and compliance of the Kleenheat NT depots was added to Colin's responsibilities. 
"I continued with this position for a few years and thoroughly enjoyed the interaction with many departments in Kleenheat and WesCEF."
Colin's role was eventually split in two when Kleenheat commenced operations at the Donaldson Road Depot. 
While Colin was eligible for the Manager of Operations role, he opted to stay within compliance and training as Depot Compliance Manager, his current role, as this allowed him to interact with local and regional depots, while providing assistance to operations as was needed.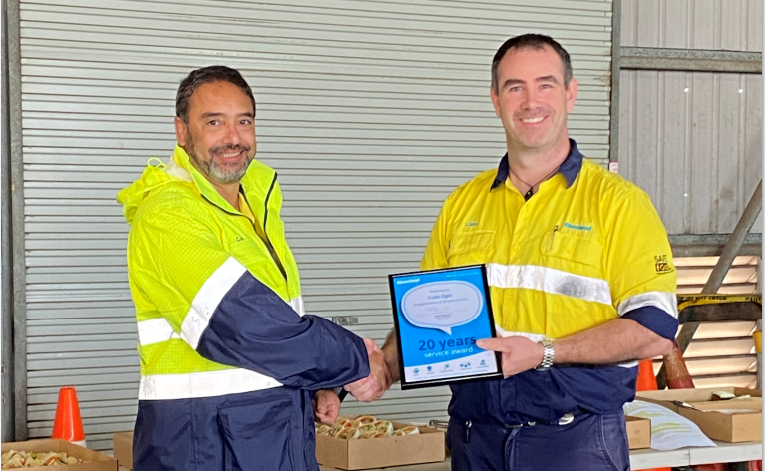 A milestone 20 years in review
"I have acquired a lot of knowledge managing the depots and working with external organisations like the Department of Mines, Industry Regulation and Safety (DMIRS) and WorkSafe."
Colin still manages test stations, owns various operational procedures, completes inspections and audits and provides training and mentoring for employees across WA and the NT. 
"After 20 years with the company my most memorable part of this journey has been the people who I have worked with all over this country. Some have moved on, some have leadership positions, some have passed on, and some are now long-term friends. I enjoy coming to work every day and asking "how can I help?"."