09 December 2021
The CSBP Coastal Connections Challenge began today.
Kicking off the two day event involving over 50 school children this morning was General Manager Chemicals Joint Ventures & AV/ModWood Barney Jones.
The Challenge is designed for students to explore environmental problems along the coast and work out how we can solve them.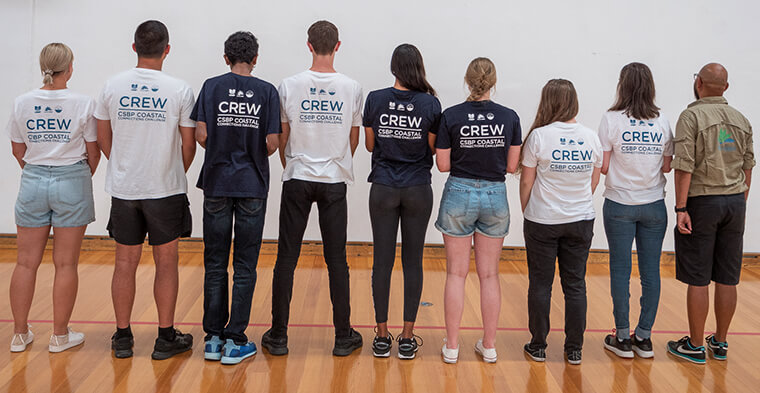 Many employees are also involved as mentors including CSBP's Marketing Officer Sarah Jasper (pictured above).
Barney said it was great the business was supporting an environmental event which offered local youth the opportunity to be part of the solution to some of the coastal challenges we are experiencing today.
"Kwinana and Rockingham have some of the best beaches in the Perth metro area. As well as being home to birds, plants and marine life, our coast is also an important part of our lifestyle in WA.
"We do, however, risk 'loving our coast to death', as the white sands and clear blue waters attract so many people…… unfortunately, this results in lots of plastic pollution, erosion of beaches and loss of wildlife.
"That's where the CSBP Coastal Connections Challenge comes in. The beauty of the Challenge is that the students will work on real-life problems affecting our coastal area… and the ideas they come up with may just be part of the solution."
WesCEF Corporate Affairs Advisor Alexis Gilmartin, who has been a key organiser of the event, along with community partners Perth NRM, said the inaugural event has been two years in the making.
"I'm thrilled that so many employees have volunteered their time to be mentors over the two days."
Senior Environmental Advisor Mark Germain, Senior Plant Inspector Robbie Sullivan and Occupational Hygiene Technician Kate Pember all spent time with the students working on various aspects of coastal life, challenges and possible outcomes.